The iPhone, then Android, then the iPad, and other recent devices in the last five years have ushered in a new context and paradigm to interact and experience content and applications. More and more users are using touch and gestures on touch enabled screens to interact with content and applications.

Given the drastic differences between touch computing and mouse and keyboard computing, software developers are reinventing or at the very least re-imagining their software around touch computing. – Ben Banjarin (Techpinions/Time/Industry Analyst)
Flowboard, along with other apps and companies, is defining and establishing 'touch publishing'. With smart phones and tablets increasing in adoption while PC and laptop sales are slowing, consumers (will) need new tools native to touch. Apps like Paper by 53, and others, are 100% touch and gesture based and completely rethought for the iPad (touch interface).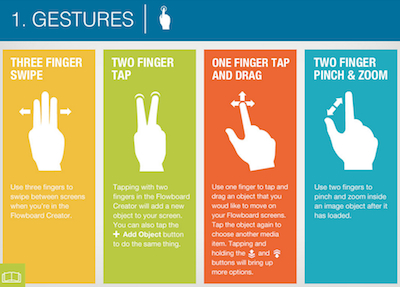 With Flowboard, using your fingers and gestures and the touch interface, you build touch publications, touch albums, touch presentations, touch portfolios, touch brochures, touch reports, touch catalogs and more. Flowboard is the first iPad app dedicated to touch publishing.
Flowboards allows anyone to make side-scrolling publications with images, text, videos, links, and photo galleries. Whether you have a story to tell, an idea to share, or a presentation to give, Flowboard allows you to create & present right from your iPad, or share to any device. Flowboards are fun, stylish, and entertaining.

The medium is the message – Marshall McCluhan
The medium has changed to touch and users want to interact directly with the 'canvas' to create new experiences for this new medium. We're extremely excited about the coming launch of Flowboard and the new era of touch publishing.