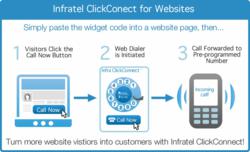 Infratel announced the availability of Infratel ClickConnect, an integrated click to call service for small business websites. Infratel ClickConnect solves the challenge of connecting website visitors to small business proprietors. Small businesses rely on telephone calls to service clients and convert prospects to customers. Infratel ClickConnect enables website visitors to click a button and immediately place a hassle-free web call to the business.
"Adding Infratel ClickConnect to our offerings for insurance agents will give our clients a competitive advantage. Visitors to an agent's website will have an option to immediately reach the agent instead of just filling out a lead form. This will result in converting more visitors into hot leads making our website offering even more valuable," Aaron Kassover, Principal AgentMethods.com
After placing a small code fragment into a web page, a click to call button appears on the website. Visitors click this button to launch the web dialer that immediately calls a pre-programmed phone number from the computer. There is no new software to download for the visitor and no new equipment needed for the small business.
The Infratel ClickConnect service is made available through web hoster & cloud services partners enabling these providers to deliver premium, valued added service plans for small business and drive additional revenue.
"We're always on the lookout for new solutions that can help our small business customers be more successful", said Celal Ulgen, Chief Marketing Officer of Softcom, "We're excited to work with Infratel to offer ClickConnect with our Business Class Webhosting and VPS packages through myhosting.com".
Infratel ClickConnect is part of the Infratel product family of solutions helping small businesses to enhance their business image and grow revenue with a professional phone presence.
Leave us your comments…