Join this field trial to preview upcoming features Google been working on, such as:
Additional related features and improvements
Desktop, mobile, and tablet availability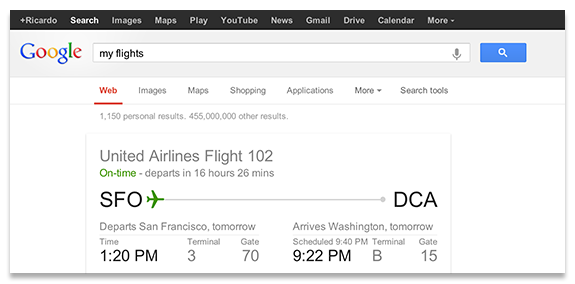 Enhanced flight tracking features

Get information and status updates for your upcoming flights. Search for [my flights] on Google.com and useful information will appear right in Search.
Receipts from your email
Search for [my purchases] to see your online purchases from select merchants and track if they've been shipped.

Emails relevant to your search
Find relevant Gmail messages and shared links. Search for [holiday party emails] to find emails regarding your party.

Files from Google Drive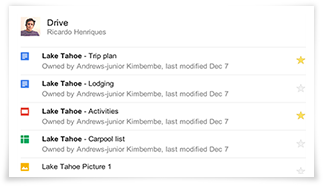 Search for documents, presentations, spreadsheets, or your [Lake Tahoe docs].

Events you've booked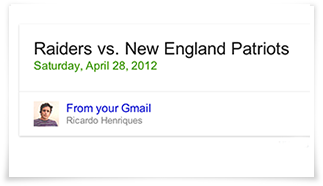 From concerts to the big game, search for [my events] to see events from Gmail.

Hotel reservations from Gmail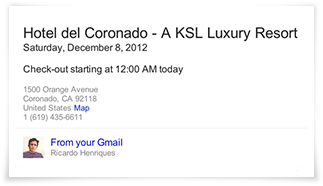 Confirm your stay by searching for [my hotel reservation].

Restaurant reservations in Search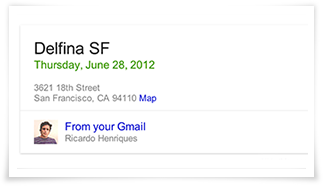 Check your dining plans by searching for [my restaurant reservations].
Improvements to search in Gmail
As you type a search in Gmail you'll instantly see relevant emails as well as results from Google Drive and more.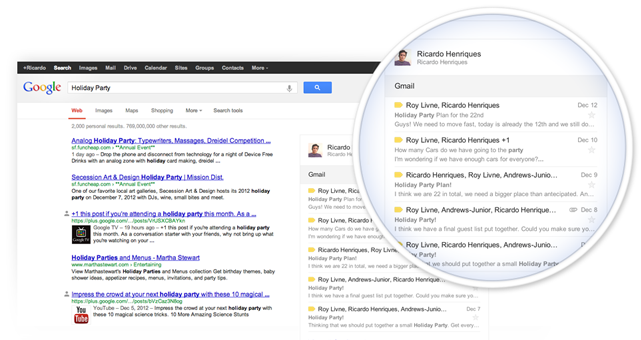 Results from Gmail and Google Drive when you search on Google.com
Your searches on Google.com may bring up relevant emails, files and more from Gmail and Google Drive.
A few things about this field trial
This trial is currently only accessible on https://www.google.com in the U.S. in English for @gmail.com addresses (not available on Google Apps accounts). Due to limited capacity and initial setup, you will receive an email confirmation from Google when your account is ready (and possibly other update emails during the trial) but note that Google may not be able to activate the experiment for everyone.
You can come back to this page at any point to leave the trial.