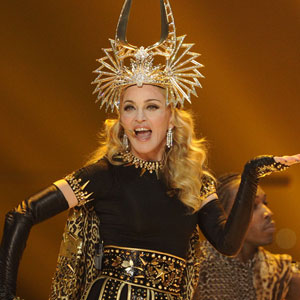 She came, she performed, but did she conquer? Madonna took the big stage for the Super Bowl halftime show, along with a few friends (Nicki MInaj, M.I.A., and Cee Lo Green for example), to perform her new song as well as some old favorites. There was a lot of hype going into the performance, which Madonna called "a dream," so we're curious to know what you thought of the Material Girl's Super Bowl debut…
While Madonna performed her new single "Give Me All Your Luvin,'" featuring rappers Nicki Minaj and M.I.A., she made sure to play to some of her oldest fans: performing an array of her most popular tunes: "Vogue," "Like a Prayer" and "Music." Dressed up as Cleopatra, Madonna opened with "Vogue" and made a memorable entrance thanks to Roman soldiers-turned-dancers carrying her to the stage. Next up was "Music," which served as a mash-up with LMFAO's "Party Rock Anthem." That was a lot of fun.
Here is the original music video also for your pleasure
And what Super Bowl performance is completely without a marching band led by Cee Lo Green? Madonna and Green, backed by a choir, finished the performance off with a rendition of "Like a Prayer."
What did you think of Madonna's Super Bowl halftime show? Did you enjoy it or was there too much going on for you? Sound off in the comments!
Bonus: