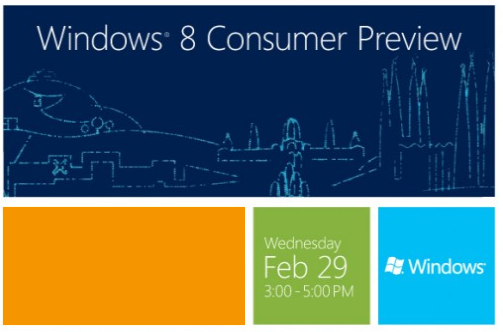 Windows 8 has been a topic of controversy around the web since it was launched late last year at the BUILD conference in developer preview. While many love the new Metro UI and the concepts of apps, many don't. Microsoft has re-engineered windows for both Windows 8 Mobile and Windows 8 Desktop/Tablet also. If you remember that Windows 8 introduces many features that will awe you and also now has removed the use of ctrl+alt+del.
And just to show how Microsoft has progressed upon the developer build, Microsoft has sent out invitations today to a special leap year day Consumer Preview Launch in Barcelona at Mobile World Congress, and since we've been promised a "late February" availability for the not-a-beta, we're assuming we'll be able to download the bits on February 29, 2012.  Tom Warren at the Verge listed a number of apps, thought to be bundled with the Consumer Preview:
Camera
Messaging
Mail
Calendar
SkyDrive
People
Photos
Video
Music
Tom also details some more information about the apps, and adds further fuel to the "Zune is dead" fire:
These applications, and possibly more, will come preinstalled for the Consumer Preview release, and will be updatable from the Windows Store. Mail, Calendar, People, and Messaging are designed to be core Windows communications apps and are not branded with Windows Live. One source has revealed that Microsoft is working to enable SMS support for the Messaging app which operates as a Windows Live Messenger equivalent in its current form. The Music and Video applications are currently branded with Zune, but are built by the Xbox team. We are hearing that this branding will be removed shortly before the Windows 8 release, moving to Xbox Live for Windows as the entertainment brand for Windows 8 Music, Video and Games.
Leave us your comments…